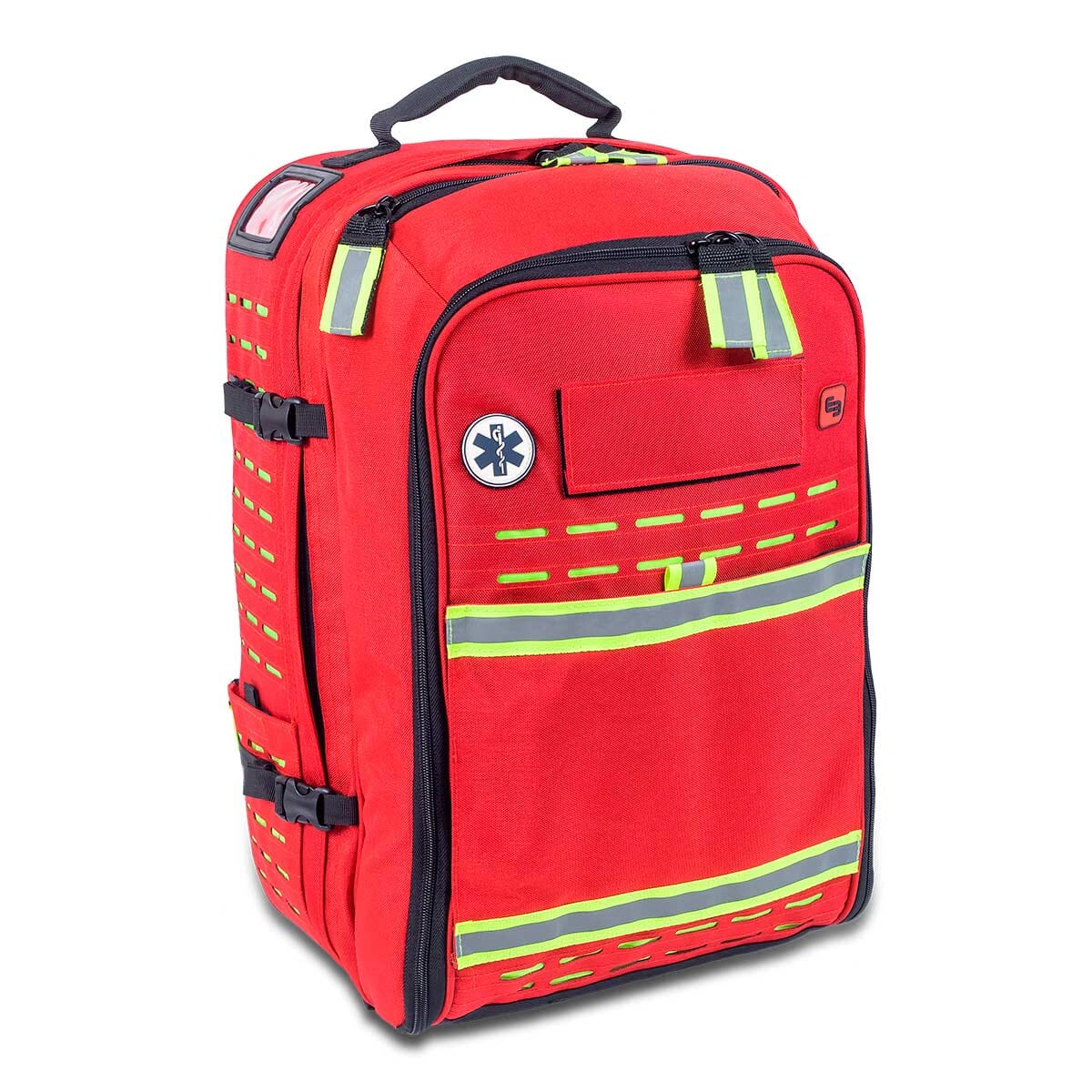 Tactical Backpack ALS/BLS
| | |
| --- | --- |
| Weight (approx) | 3,50 kg |
| Dimensions (approx) | 32 × 52 × 28 cm |
| Capacity (Liters) (approx) | 46,5 L |
| Color | RED, RED TARPAULIN |
| Material | 1000D POLYESTER, TARPAULIN |
| Recommended maximum content (Kg) | 15.00 |
Pictures are only for reference. Colours may vary.
Meet the Elite ROBUST's semi-rigid tactical backpack with reinforced carcass, providing additional protection and security for more fragile contents and for demanding environments. Particularly appropriate those working in situations where the pack may experience more frequent impacts, giving increased peace of mind that critical contents will be protected for then they are needed most. Features compartmentalised layout, with movable padded separators, allowing items of varying dimension to be securely stowed. A full-with, clear fronted pouch, with easy rip-open cover, ensures immediate and visible access to critical emergency items, while high-vis, large zip tabs reduce pack opening times, even with gloved hands. Constructed from durable fabrics with supporting compression straps and rugged zips, this backpack can truly be an all terrain, high demand, emergency responders toolkit.
Transparent PVC windowed front compartment allows contents to be easily identified.
New front and lateral laser cut MOLLE webbing includes drainage holes for water or dust.
Detachable waist strap for secure adjustment and increased comfort.
Comfortable padded back panel and shoulder straps with quick release system.
Detachable load-bearing hip belt and sternum strap with glow-in-the-dark whistle buckle.
Lower loading straps for stowing blankets, sleeping bags or mats.
Tough, high-vis zip tabs and reflective marking strips.
Slip main compartment, including organisational dividers and compartments.
Velcro straps to securely attach an oxygen cylinder (up to 3L) and manometer.
Easy access defibrillator storage pouch with adjustable elastic straps.
Internal hydration bag pocket with grommet for drinking tube.
Internal mesh pockets for securing critical items while retaining contents visibility.
Zipped top compartment for fast access to important frequent use items.
Versatile main compartment with moveable separators and hook-and-loop straps.
Compression side straps and extra-slim zipper pocket.
Identification panel, detachable life cross rubber patch, and cardholder.